Meet the Team: Bella Griffiths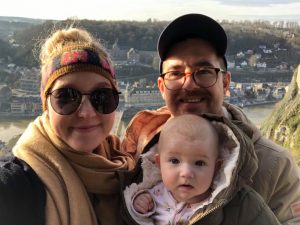 1. What is something not many people know about you?
I was an English Teacher in a small town in Spain called Logrono for a year and a half. I speak Spanish and German.
2. Why did you get into recruitment?
I came home from being overseas and joined Crescent when they first opened, I have never left
3. Favourite city/country you have been to?
I would say Japan is my favourite country, the culture is amazing, food is incredible and the people are so polite.
4. Favourite thing to do at the weekend?
Spend time with my little family and walk my giant dog (Apollo) down the beach. You can hear him from a mile away. Working on our house we are renovating.
5. What do you like best about your job?
I really enjoy getting to know candidates and helping them on their journey to find a job.
6. What is your biggest fear?
Spiders, I can't even look when I see a photo of them.
7. Favourite food/cuisine?
I would say Thai food is my favourite, but at the moment during lockdown I miss any takeaways food.
8. Cats or Dogs?
100% DOGS – way more fun
9. What song would you sing at karaoke?
Something from the 90s, Celine Dion – 'it's all coming back to me now'
10. What was the last film/tv show you watched?
Tiger King on Netflix, wow no words….got to watch it
11. What does recruitment in the future look like?
I think that majority of work is done online already but will be even more so… although I think it is important for recruitment to keep the personal side to it, for recruiters and clients hiring to keep the face to face meeting and talking, to know personalities and to be able to trust your gut feeling when talking to someone, this cannot really be done properly when you only see the person via a screen.