Meet the Team: Colin Cowgill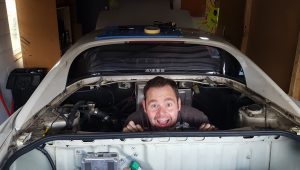 What is something not many people know about you?
I play goalkeeper for two indoor football teams a week.
Why did you get into recruitment?
I was job hunting myself and was surprised by the lack of industry knowledge and professionalism from apparently successful firms, and thought clients and candidates deserved high quality service.
Favourite city/country you have been to?
City- Vancouver (and the wider British Columbia)
Favourite thing to do at the weekend?
Tinkering in the garage making things to distract me from my project cars or riding my motorbike for the same reason.
What do you like best about your job?
The people and the connections you make. You are always learning something about the people and the business' you are working with. Through this new information you are able to do the best both by your clients.
What is your biggest fear?
Not a fan of heights….
Favourite food/cuisine?
Meat and carbs. Even better if there are no veggies.
Cats or Dogs?
Sure, I like dogs. I like caravans more.
What song would you sing at karaoke?
Skid Row – 18 And Life
What was the last film/tv show you watched?
Snatch
What does recruitment in the future look like?
A more automated environment, with greater emphasis on market connections and relationships.
What has changed most about recruitment since you started?
Organisations are more open to flexibility, especially right now.