Meet the Team: Heidi Griffiths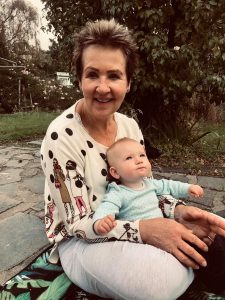 1.What is something not many people know about you?
I came to NZ from Germany in 1986 and at the time I had three job offers with my employer Nixdorf (one of the largest European computer companies at that time) I had one offer in Paris, one in Barcelona and one in NZ….I had no idea where NZ was but thought I can't go any further away from home so that would be a great adventure and I took the offer in NZ. I promised my mum I only go for a couple of years…things turned out differently.
2. Why did you get into recruitment?
When I was on maternity leave after my daughter was born my company made my role redundant…I had a mortgage and needed to go back to work earlier than expected. The recruiter I talked to at the time said ' I don't have any jobs for you in IT but you can come and work for me' so I gave that a go. Since my professional background was in IT I started their IT recruitment desk…that was nearly 30 years ago..
3. Favourite city/country you have been to?
I love everything Mediterranean but particularly Spain. I have traveled through Spain several times and love every part of it but my all-time favourite City is Seville. What an amazing history and the people in Andalusia are something else. Would go back there in a heart beat.
4. Favourite thing to do at the weekend?
My two dogs keep me busy and active so I walk a lot but gardening is my next favourite thing to do. I also love baking and would do much more if my waistline wasn't getting already into a critical stage. I love cooking German food, luckily I have learned from my mum all the traditional German dishes such as 'knoedel – potatoe dumplings' 'Rothkohl – red cabbage' Rolladen – beef olives filled with Chorizo, 'Reibekuchen – home made hash browns with Salmon and horseradish cream' to name a few.
5. What do you like best about your job?
There is nothing I don't like about my job except chasing debtors…nobody likes doing that. I recruit in IT and Engineering and I love how technology changes so quickly that it keeps me on my toes to keep up with what is in demand. I love finding that one special candidate like a needle in a haystack and make a difference to my client's business by adding some outstanding talents to their teams. I love how I make a difference to a candidate's life by promoting them to our clients and shining the spotlight on them. I love networking and being close to the candidate pool by providing career advice and helping them seeing a clearer picture of their future career. I enjoy working with young people who are at the start of their career and providing clarity to which career options are possible and how to get there.
6. What is your biggest fear?
Nothing really worries me in general, I hope that my family remains happy and healthy and whatever I can do to make that happen is priority. Half of my family lives in Germany and my biggest fear would be that I am unable to travel and see them when I want to.
7. Favourite food/cuisine?
Toss-up between German and Spanish cuisine. I love anything pastry based…am a chocoholic in recovery. My mum still sends me my favourite German Chocolates to NZ when I crave the real thing.
8. Cats or Dogs?
Definitely Dogs, I have had dogs all my life so never had a chance to get to know cats but think I would like them..just my dogs don't let me get close to them.
9. What song would you sing at karaoke?
"I will always love you" from Whitney Houston…not sure anyone would want to listen.
10. What was the last film/tv show you watched?
I recently had a binge watch of 'Benidorm' which made me laugh till my sides hurt. I love British comedy, Little Britain is another favourite. A serious movie I recently watched was 'Lion' and I loved it but had a little cry.
11. What does recruitment in the future look like?
The immediate future: I think we will see for a while a resistance of people wanting to move on from a secure position, the current economic climate will eliminate a few companies who have already been struggling so leaving a permanent role to join a new employer could be a bit of a gamble. On the other hand, there are companies laying of some excellent staff who are in the market for those who are growing and were struggling to get these high end talents. Also, there are going to be less immigrants coming into NZ, people might put their immigration plans on hold for a while and ride the economic climate out. We are confident that there are also going to be less recruitment firms around and only the ones with strong client and candidate relationships will survive.
The long term future for recruitment is likely that the competing for talents will force employers to think outside the box. This could meant that to complete their products they will have to rely on remote workers or have most of their team members working from home, including virtual teams outside the country. They may also accommodate more part timers, job sharing. There will be a huge demand for people with skills in 'design thinking' and User Interface / User Experience but most of all, due to the skills shortage employers will have to provide more versatile benefit packages including 'extra time off for training, extended travel and personal projects'.
For recruiters this means that promoting an employer brand ahead of other employers becomes more than ever key to getting to the right candidates. It also means that employers will partner with Recruiters who are intimately familiar with their organisation culture and goals.
12. What has changed most about recruitment since you started?
I started in 1991 when word processing was not integrated with client or candidate information. In fact, our client file was in a box of cards with names and phone numbers on it, alphabetically sorted. We received CVs as hardcopy in the mail, kept them in folders in filing cabinets. Talent searches meant we had to look at each hard copy CV to assess if the candidate had the right skills. Then re-type the CV to send to clients together with a summary report. Job advertising was only in the local or regional newspaper at great expense. One off adverts were upwards of $2k. There was no job web portal to advertise on, companies didn't have web sites to publish their profile or jobs on and the only way to get to candidates was paper advertising or calling them if they had their CV sent in to us. No email…imagine that! On the other hand, companies were recruiting like crazy, especially in IT and Engineering, the economy was booming and employers would take as many people as they could get.