What do Employers look for in a Graduate?
Uni 101.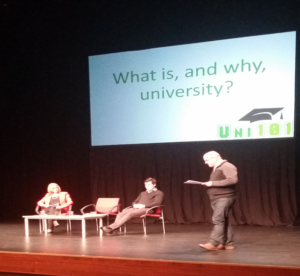 A great night at the Aurora Centre for the Uni 101 event, an opportunity for parents and year 13 students to understand the ins and outs of University life.
We spoke to students about what employers expect form graduates as they enter the workforce and what they are looking for.
It goes without saying that employers will want to see good academic grades although this is only part of what they are looking for.
They want to see people who are able to work in a modern work environment, which is less structured, more innovative and more responsive to changes in their market.
As a graduate you will need to be able to cope in an environment of change and innovation. Employers will want to see that you have the ability and willingness to keep learning and develop yourself further, leaning does not stop at Graduation.
Effective communication is essential, the ability to structure a business case or clearly articulate a technical issue is critical especially when so much of our communication is informal and unstructured.
Interpersonal skill are very important, employers are very protective of their workplace culture and want to employ people who will fit in well, the ability to build relationships and work effectively with colleague at all levels is important.
They want to see your personality, are you a well-rounded person, you have the ability to challenge yourself, step up and lead, manage you time effectively. Involvement in group and clubs outside your academic studies is a great way to demonstrate these attributes and allow employers to understand your interests and can build common bonds with potential employers.