Meet the Team: Andrew O'Regan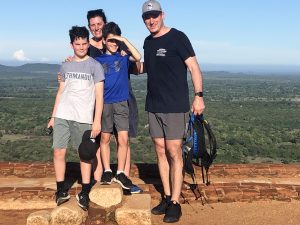 1. What is something not many people know about you?
I completed my first marathon in 2017, next week I was supposed to fly to China to run the Great Wall which is obviously not happening now. I suppose this means I have more time to train.
2. Why did you get into recruitment?
Like a lot of people I fell into it, I returned to Christchurch and was talking with a recruiter who recruited recruiters he suggested that I look at an opportunity with one of his clients. To be honest, I was somewhat apprehensive, my wife Sally had worked in recruitment earlier in her career and was the one that gave me the nudge to enter the industry. Nine months later we started Crescent, four years after that we were in the Deloitte Fast 50, so I suppose the lesson is always listen to your wife.
3. Favourite city/country you have been to?
That would have to be Sri Lanka, we traveled there last year as a family, I want to return at some stage and explore the southern part of the country this time.
4. Favourite thing to do at the weekend?
My weekends usually revolve around sports of some sort, with both boys involved in a number of activities, outside of that any time over the weekend when I can get out on the water with friends and family is always a good day. Finished off with a few beers in the sun!!!
5. What do you like best about your job?
I get to work with a great team and we have been able to implement a number of tools into the business which provide us with a lot of flexibility. This means I can work from home when needed and also beside the pool watching swimming training.
6. What is your biggest fear?
That would have to be snakes, I definitely not a fan.
7. Favourite food/cuisine?
South East Asian, especially Vietnamese, eating local cuisine and a cold beer on a beach, can't beat it.
8. Cats or Dogs?
We use to have a cat who unfortunately died a few years ago and I am under growing pressure to get a dog so will have to say the jury is out on that question.
9. What song would you sing at karaoke?
I studied at Lincoln so it would have to be The Gambler
10. What was the last film/tv show you watched?
Ashamedly I would have to say Tiger King although thoroughly enjoying watching the Michael Jordan documentary 'Last Dance' with the boys.
11. What does recruitment in the future look like?
Over the last few years the market here in Christchurch has become very competitive, a number of new firms have opened and are looking to build a presence in the market and we have also seen a number of markets contract such as building and construction. I think the market will remain competitive which will mean we have to continue to build strong collaborative relationships with client and candidates.
As the employment landscape changes clients and candidates will want to know that we understand the industries they operate in and can add value through the recruitment process.
12. What has changed most about recruitment since you started?
This would be technology, as a business we have spent a lot of time looking at our processes and how they can be automated and streamlined. This has proven extremely valuable over the last seven weeks.