Meet the Team: Roz Grant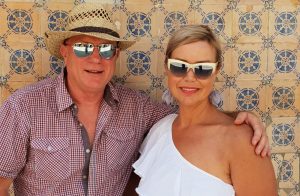 1. What is something not many people know about you?
I have an extra 2 vertebrates in my spine!!
2. Why did you get into recruitment?
I was living in London on a working holiday and saw an opportunity to train as a Recruitment Consultant. I was on my way to an interview as a trainee Travel Consultant at the time. I popped into find out about the opportunity and they interviewed me on the spot and called me that night to offer me the job in the suburb I lived in Ealing. Too good an opportunity with no commute. I started there and within 6 months was the top consultant.
3. Favourite city/country you have been to?
I love both Italy and Spain. My Grandmother is from Spain and growing up I guess I was always heavily influenced by that. A few years ago we took a lovely holiday to Portugal and a road trip through Spain which was my first time there. I'd love to buy a pile of rubble and rebuild it in Italy – that's the retirement dream (although I'm not sure my husband is keen on the renovating ideas again!!)
4. Favourite thing to do at the weekend?
My husband is a builder by trade and for many years we have owned rentals and doer uppers so most of my free time for many years has been spent sanding and renovating and painting and landscaping. We have built a new house now and there is no more renovating to do!! So I love to chillax with my dogs at the beach and soak up the local café culture in Rangiora. It's all happening out here! Although you could twist my arm for a quick weekend girls trip to Melbourne when the lockdown is over….
5. What do you like best about your job?
I love the fact that I can work remotely or in the office with my colleagues, so when I have a heavy workload being able to focus and work from home without the commute saves me time and allows me to give that time to the role. I love the diversity of roles I work on and the constant learning that goes along with that, I love working within the manufacturing sector and peeking behind the scenes and seeing what goes on within NZ business is fascinating.
6. What is your biggest fear?
I'm generally a glass half full person and always tend to look at the positives, I guess its what has kept me in this industry for over 30 years.
I have to say thou that deep dark water is pretty scary so let's just say I prefer a nice pool with cocktail in hand rather than a deep sea dive!!
7. Favourite food/cuisine?
Anyone that knows me knows I can strip a cooked chook bare in no time. I'm like a parana. But the tapas in Spain is to die for!
8. Cats or Dogs?
Oh that's a hard one as I have both. I always thought I was a cat lover and have a 16 year old Torty Tabby cat I adopted from the RSPCA who will only let me pick her up, its as if the other family members don't exist in her world.
But when I got a dog all that changed. I have 2 Bruxellious Griffons – Berkeley (black and tan) and Razz (Rough coated Blondini) keep me busy and fit!
9. What song would you sing at karaoke?
No Brainer – The famous – I will survive !!
10. What was the last film/tv show you watched?
I have been watching re runs of Benidorm in lockdown as I needed a good laugh. But I love – My Trip to Italy, My trip to Spain and im waiting for the 3rd in the series My Trip to Greece, with Rob Brydon and Steve Coogan – British comedy at its best – it's due out in NZ on the 14th May. Love British Comedy.
11. What does recruitment in the future look like?
Moving on from Covid 19 pandemic, Its going to be a different landscape for a while that's for sure. Companies may look to promote internally and invest and train for some of the skills they would potentially have recruited into the business, which is great for retention. Of course recruitment is all being done through Zoom or skype all the time now, which is not a great deal of difference for us as we do this with applicants all the time. Onboarding of course will be tricky for business' that aren't set up for it. But CHCH based business' may have already put contingencies in place for this type of remote working since the earthquake – lessons learned at that point have set may co's up to be able to work through this type of disruption. However what will impact us is the inability to recruit offshore – Hopefully now that many kiwis have arrived back in the country from their OE's recently they brought a diverse skill base with them and will no doubt be seeking to settle here for a while and start their job search. Certain industries will seek to invest in e commerce so the IT industry is likely to step up and pressure will go onto the marketing teams to step up visibility or products and services. We may find supermarkets start selling more than just the norm or store in store piggy backing with the supermarkets…… Watch this space!!
12. What has changed most about recruitment since you started?
That's interesting as I look back over the last 30 years I see the fundamentals are the same, which is understanding people and how they impact a business– However what has changed is the need for speed, the ability to produce a quality result, quickly and the investment in technology to be able to work from anywhere. Also we now operate in a highly competitive market. Candidates from all over the globe apply for the roles we advertise and that's where we have had to focus our energies in the past to source those skill shortages into the country.